Laundry Tips to Preserve Your Clothing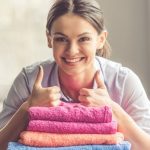 For many of us, doing laundry is not our favorite household chore. So who can blame us if we rush a bit to get it done? But being rash with laundry can come at the expense of our valuable clothing. Here are three quick tricks to preserving your clothes.
Don't over stuff the washing machine. As tempting as it is, over-stuffing won't allow the water and detergent in your machine to clean efficiently and can lead to over and under-treated pieces.
Add a bit of vinegar in the washing machine to colored loads to keep colors bright. Don't worry, the smell washes out.
Mark stains with clothes spins. Keep some clothes pins next to each laundry basket in the house and teach your family to attach a bin to their shirt or pants when they toss their laundry in the basket.
When you need an extra set of hands with the laundry give our "Laundry & Light Cleaning" service a try. Here is a handy link for more details.
Book The Cleaning
You Need Now