5 Tips for Outdoor Living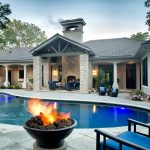 Summer is the perfect time to enjoy the outdoors and entertain friends and family in a new setting. But patio furniture, new planters and outside decor all give rise to an additional "room" you now have to care for. However, after adding a few items to your "to do" list, and following our tips, you will be able to fit in all those extra chores and still have time for a nap in the hammock and fun at the beach (or the park, or the fair, or a bike ride, etc.).
Choose bright colors and patterns for outdoor textiles. These carefully selected textiles will save you time in the future when you are trying to remove summer stains. Want to take this theory a step further? Pick out the colors that coordinate what stains you predict, i.e. raspberry colored cushions if your kids love the berries.
Have a stack of compostable snack-sized plates at the ready. The truth is there are a lot of snacking meals for outside eating in summertime. To cut down on spending your time at the dishwasher, buy some party sized plates that can go in with your compost or recycling.
Make sure outside textiles can be easily cleaned. Whether you spray your fabrics with a protective spray or focus on water resistant materials, make sure your textiles can take the beating of the summer weather. To take extra care, establish an attractive basket or bin in the corner of your porch, patio or deck in a protected area for storing cushions and coverings overnight.
Have a strict rule on disposing food. At end of the night leaving out extra food can lead to some unwanted "extra guests" such as squirrels, birds or raccoons. To curb your after-dinner invite list make sure your backyard and deck are completely cleared of food. This will save you time later taking care of any messes from the unwanted animals.
Invest in self-watering planters. Found at garden shops and home improvement stores, there are a number of "self watering" pots and planters you can choose from for your container garden. Because of their built-in system for resource water, you only have to water weekly, rather than daily to keep your plants happy.
Book The Cleaning
You Need Now